Dale Seal is president of Sun Pacific Products, Inc. For more than three decades, he's built Sun Pacific into an international food marketing company that provides a wide variety of industrial food products such as tomato and citrus products, a unique apricot purée, olive oil, garlic, and even pineapple products to customers such as fast food restaurants. Headquartered in Fresno, the company also has offices in Mexico and China.
Since the mid-1990s, Seal has split his time between his family home in Fresno and a home he bought and renovated in Carmel's "Golden Rectangle." Unfortunately, although his plans called for an expanded garage to store his small, but growing, car collection, the plans were rejected by the city.
Carmel's first schoolteacher originally owned Seal's Carmel residence in the village, and sometimes taught school there. So, as a historic structure, any changes had to be consistent with historic preservation guidelines — leaving Seal with just enough garage space to park his compact Fiat Abarth sports car.
Perfect Garage Solution
But with the opening of Monterey Motorsport Park, a unique garage-condo complex and car-driven community along Highway 68 adjacent to the Monterey airport, Seal has finally found the perfect solution.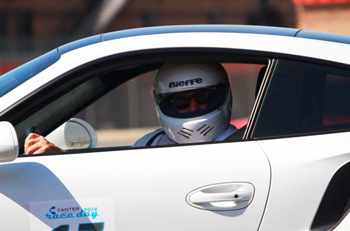 "One of my biggest problems has been storing track cars that I like to drive at WeatherTech Raceway Laguna Seca, as well as other cars in my collection," says Seal.
Monterey Motorsport Park is the ideal garage solution — giving me the storage space I need, plus room for a driving simulator and other "man cave" amenities.

Dale Seal
Seal purchased his first garage-condo in Building D when the community was initially announced. But after moving his car collection into the unit when it opened earlier this year, he realized that, at 686 sq. ft., it was a bit too small for his needs.
"I decided to lease the unit to another user — it only took two days to find someone who really wanted my garage-condo," Seal comments. "Then, I purchased another larger unit with nearly 1,000 sq. ft. in Building B."
Seal is using the same builder who renovated his Carmel home to customize his new garage-condo unit with a sink with running water and a leisure retreat in the unique mezzanine 13-feet above the garage floor — built out with a refrigerator, comfortable seating area, driving simulator, and big-screen TV.
It's a home away from home for me. In addition, I'm in a row with several other people from Fresno who have ties to the Monterey Peninsula and also bought garage-condos at Monterey Motorsport Park. We call our stretch of units 'Fresno Alley.

Dale Seal
People Make the Community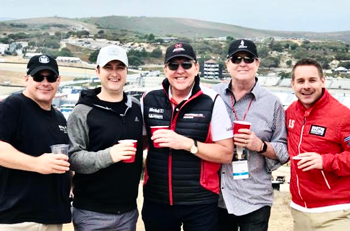 But what really makes Monterey Motorsport Park special is the people. "I've met a number of the owners and everyone is really nice. There are so many car people and the owners are all willing to help out if you need anything."
Seal continues, "It's a really special environment — safe, spotless and well managed. I'm so happy we were able to find a place."
In addition, Seal cites Monterey Motorsport Park's location as a key selling point for him.
"It's close to Monterey Regional Airport, so you can fly in and fly out. It's also close to the raceway, minutes up Highway 68. And I'm a golfer, so the community puts me minutes from the club I play at. I can drop off a car, play a round, and then come back and hang out at the garage. What could be better?"
To learn more about Sun Pacific Products, visit sunpacificprod.com.
Less than 20% of our Garage-Condos Units Remain
If you're interested in joining this unique car community on the beautiful Monterey Peninsula, you no longer have time to wait. All of our remaining garage-condos are available for tours — in full compliance with local public health regulations. But the selection is rapidly dwindling. Building A is already sold out. And inventory is declining steadily in the other three buildings.
A total of just 86 stunning garage-condos — with available units from around 700 sq. ft. to a unique 1960 sq. ft. double-unit in Building B
A spacious mezzanine in every unit, customizable into a personal office or plush retreat
Oversized rollup doors for easy vehicle access
Walk-in doors for comfortable entry for you and your guests
24×7 proactive video monitoring, plus access-controlled entry gates and security lighting
High-speed, fiber optic Internet options for TV and VoIP phone service
On-site car wash, EV charging stations, compressed air and water, and community restrooms with showers
Garage-condos available for personal or business use
Reach out to our brokerage team today to arrange a time to see this incredible facility for yourself:
Josh Jones, Mahoney & Associates,

[email protected]

, (831) 233-2196
Ryan Clark, Cushman & Wakefield,

[email protected]

, (831) 755-1635
Dennis Chambers,

[email protected]

, (408) 605-6760
You can also get in touch with Gordon McCall, who has moved his business into a unit at Monterey Motorsport Park, at

[email protected]

or call (831) 372-9311.
Or you can contact Ralph Borelli at

[email protected]

or call (408) 521-7117.