Occupation
Retired
Formerly an engineering project manager for Apple for around 12 years
Why He Bought
"It was basic math — trying to fit four classics, plus a daily driver, into a two-car garage." Was living in a townhouse at Quail Lodge in Carmel Valley, with a two-car garage and no driveway. Had to park his daily driver Audi in the guest lot, and needed a safe, secure storage solution for his valuable collection.
Currently resides in Pebble Beach, but still has only a two-car garage — not uncommon in the Carmel-Monterey area where many owners have a one-car garage, or no garage at all.
What's in his Garage Condo
1971 Ferrari Dino 246 GT
1961 Aston Martin DB4
1957 BMW 507 roadster
1955 Mercedes-Benz 190SL
"The car I drive most often is the Ferrari. But the one I love the most is the BMW, because it's so rare and there's sentimental value. I inherited it from a friend, who owned it and another 1957 BMW 507 formerly owned by Elvis Presley." The car was restored to a Pebble Beach Concours level over a two-year period from 2014–2016 at BMW Classic in Munich.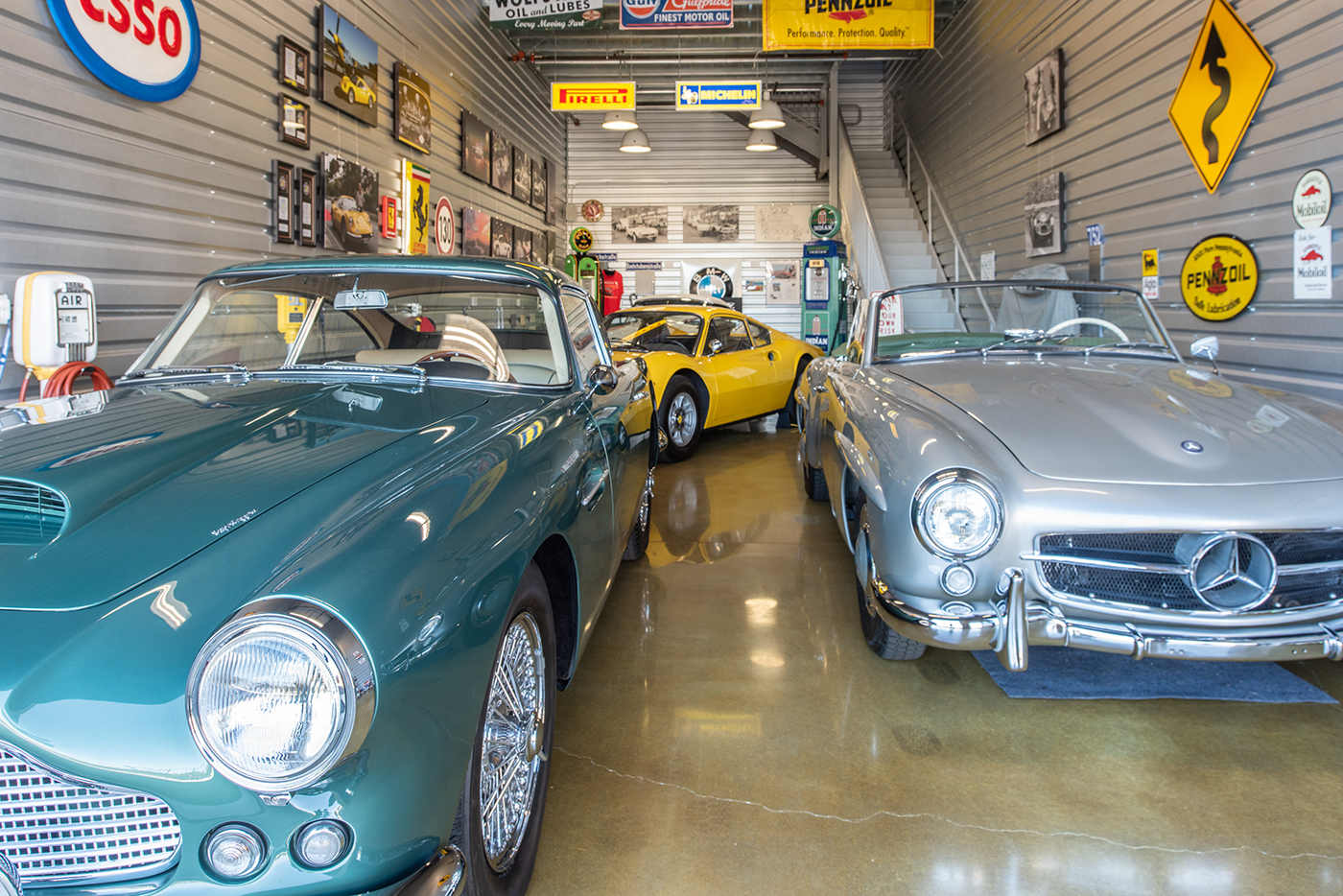 What He Likes Most
"I love the location, because it's out of the hustle and bustle. And it's quiet…except on WeatherTech Laguna Seca race days," he says with a smile.
"I'm very happy with my purchase at Garage Unlimited. I wanted something I could customize — I made several improvements and decorated my garage-condo with collectibles including two restored gas pumps, artwork and memorabilia that I also inherited from my friend. So, it's a unique space."
On His Garage-Condo as a Investment
"I certainly didn't buy at Garage Unlimited for the investment. But I initially bought a smaller unit before purchasing the larger unit I own now. When I sold the smaller unit after only five months, I made a nice profit of about $40,000. With that history — and given how I've improved my unit — I'm confident it will be a good investment over time."
Find Yourself at Monterey Motorsport Park
Garage Unlimited of Monterey is a close affiliate of Monterey Motorsport Park — developed by the same team that's now working on the next generation of upscale, luxury garage condos under construction adjacent to Monterey Regional Airport.
To learn more about Monterey Motorsport Park and check availability, contact us today!