After a busy year of meticulous construction by general contractor and co-developer, SWENSON, Monterey Motorsport Park has begun opening in phases.
The first building of the distinctive four-building, 90,000-sq. ft. complex is complete. Escrows are closing and owners have been green-lighted to move into their luxurious garage-condos and customize their units to suit specific needs and desires.
Buildings B, C and D will quickly follow over the coming weeks — one after the other — with the entire complex expected to be open by the end of February (weather permitting). Owners will start moving in as each building is completed, so if you've had your eye on one of the Monterey Motorsport garage-condos, you can't afford to wait much longer.
"Monterey Motorsport Park is truly the next evolution in garage-condos, tailored to the needs of car collectors and other motorsports enthusiasts," says Ralph N. Borelli, chairman of Borelli Investment Company, also a co-developer. "The distinctive spaces feature large roll-up doors for moving vehicles in and out — plus spacious mezzanines 13 feet above the garage floor that most owners are converting into either personal offices or plush leisure retreats with televisions, wet bars and comfortable seating areas for friends and business associates."
Attention to Detail Throughout
These upscale garage-condos located adjacent to the Monterey airport are nothing like dusty mini-storage units or sterile garages. Choose from spaces ranging from about 700 sq. ft. to 2,100 sq. ft. to suit your requirements and budget. The un-garage-like exteriors include stone wall treatments, lots of glass and awnings over some entries.
Although there's still a decent selection today, interest is growing exponentially with the completion of construction — and the remaining units are expected to go quickly.
In addition to the unique mezzanines and oversized roll-up doors — plus walk-in doors for you and your guests — other features and amenities include:
A fiber optic connection that will enable you to opt in to whatever high-speed Internet service you want from Comcast or AT&T — plus access to cable TV service
An internal water loop, so you can add a sink, shower or private restroom in your unit — to supplement the common-area restrooms and shower available to all owners in the complex
A fenced perimeter, access-controlled entry and pro-active remote guarding by Elite Interactive Solutions
EV charging stations to power up your electric vehicles on-site — plus compressed air, water and a handy car wash that fully complies with all environmental standards
Access for semi-trailers up to 55 ft., motorhomes to 28 ft. and passenger cars pulling 20-ft. boat trailers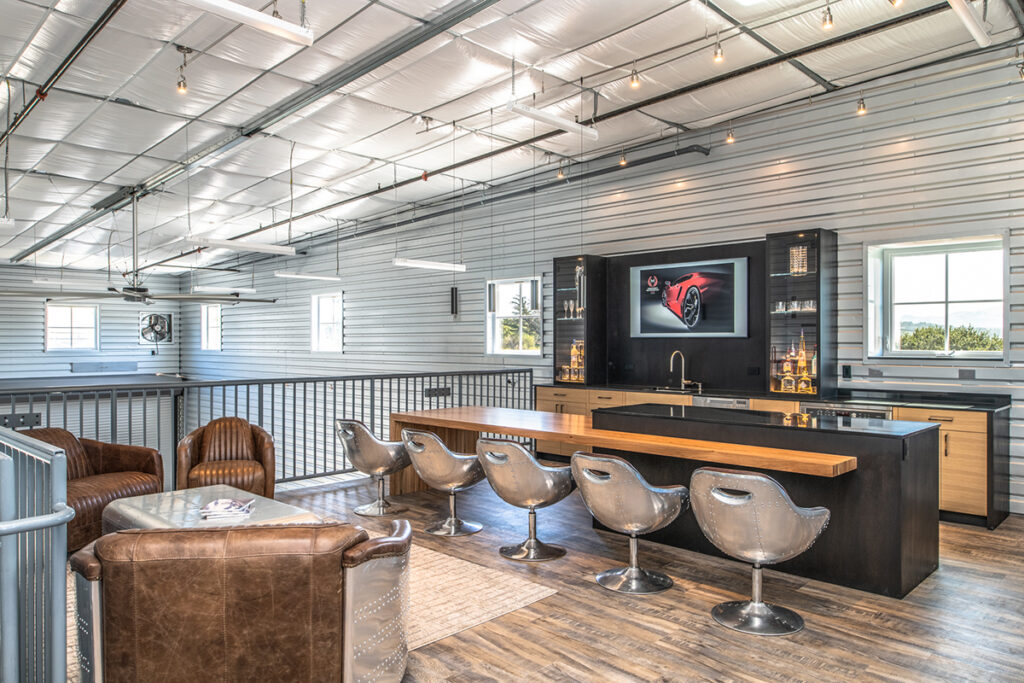 One-of-a-Kind Community
But what will truly make Monterey Motorsport Park a special place is the close-knit community we're building — and the amazing, accomplished people who will be your new neighbors. In addition to auto enthusiasts, the spaces appeal to people who run businesses that serve collectors, motorsports fans and track-day participants — as well as any individual who simply needs additional garage-type storage for business materials or personal items ranging from college-kid furniture to elaborate holiday decorations.
With mezzanines creating personal spaces in the units, owners will spend lots of time at Monterey Motorsport Park wrenching on cars, watching major sports events or just hanging with friends. And you can be part of that!
Time for a Walk-Through
You've probably been following the construction progress — now it's time to see Monterey Motorsport first-hand. Take time this holiday season or right after the first of the year to contact our brokerage team and make an appointment to see this incredible development. Don't put it off any longer! Get here while there's still an ample choice of units — you'll be glad you did.
Reach out to one of our brokers: