The McCall name is synonymous with motorsports on the Monterey Peninsula. Gordon McCall and his wife, Molly, co-host the breathtaking McCall's Motorworks Revival gala at the Monterey Jet Center to kick off Monterey Car Week every August. In addition, Gordon McCall is a co-founder of The Quail, A Motorsports Gathering — held at the end of car week at Quail Lodge & Golf Club in Carmel Valley — as well as a complementary event: The Quail, Motorcycle Gathering, which is held annually in the spring.
And now, Gordon and Molly will be among the first to move their business, McCall Events, motorsports collection, and Molly's fine art gallery into the first of the units they own at Monterey Motorsport Park. With construction complete on Building A, B, & C the McCalls expect to begin the move-in process into unit 5A within a matter of weeks.
Monterey Peninsula Native
Gordon McCall is a peninsula native who was born and raised in Carmel. As a youth, McCall started out sweeping floors at a local Ferrari dealership. Over the years, he has run a respected car restoration business, served as a specialist for Christie's International and a class judge and field coordinator for more than 25 years at the Pebble Beach Concours d'Elegance, and built his current business, McCall Events, into a leader in events planning and management.
McCall is also part of the development team that's wrapping up work on Monterey Motorsport Park — the next generation of garage-condos and a unique car community, located on Hwy 68 adjacent to Monterey Regional Aitport. Owners will be moving into the buildings in phases over the next month or two — with the remaining units expected to be snapped up quickly as individuals finally see the exclusive car community in person in the coming weeks.
There are very few affordable, upscale opportunities for car enthusiasts to solve the never-ending challenge of where we can enjoy our passion away from our home garage — if we're fortunate enough to even have a garage connected with our residence here on the space-constrained Monterey Peninsula

Gordon McCall
New Home of McCall Events
McCall plans to use his largest unit, totaling 2,100 sq. ft. of space, as a showroom for his extensive car and motorcycle collection as well as office space for McCall Events. He will be rotating the vintage cars he owns in and out of the space, and will also display more than 20 unique vintage motorcycles.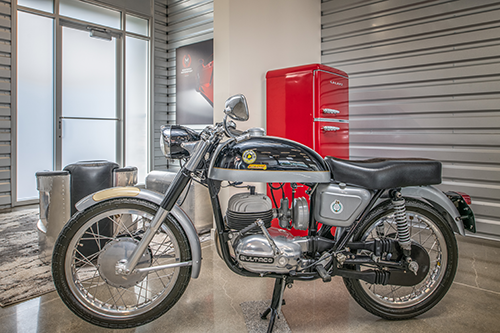 Every garage-condo at Monterey Motorsport Park has a spacious mezzanine 13 feet above the garage floor, which is accessed via an internal staircase. Gordon and Molly McCall plan to customize this mezzanine into a luxurious dual office/lounge environment. Built-in cabinets with dramatic lighting will display a one-of-a-kind collection of hand-built, 1/43-scale model cars that McCall collects. In addition, the walls throughout the space will be decorated with framed motorsports memorabilia that McCall has acquired over the years.
These keepsakes inspire me in my work world and remind me of the path that I'm on

Gordon McCall
Gallery Space for Molly McCall
Molly will use another unit at Monterey Motorsport Park as an art gallery. A noted painter and photographer whose work has been featured in Architectural Digest and exhibited in prestigious museums and art galleries across the U.S., she looks forward to having a permanent space to show her pieces to discriminating collectors, visitors and friends. Like Gordon, Molly is a native of the Monterey area and has a special affinity for the unique lifestyle led by local residents — and this is often reflected in the various pieces that she creates.
Compelling Reasons to Invest
When asked why he's excited to be part of the extraordinary Monterey Motorsport Park car community, McCall has a number of ready responses.
My interest in vintage motorcycles and cars is one that I don't think is best enjoyed in a vacuum. Being surrounded by friends who share similar interests makes getting together and swapping stories much more fun.

Gordon McCall
McCall cited three keys reasons for investing in a garage-condo at the community:
Own vs. rent — It's ideal to be able to own space in a secure, well-located and well-built facility, and enjoy the tax benefits of bringing a business here.
Lasting friendships — I've become acquainted with a really interesting group of like-minded people from the Monterey area car world and many of them will be joining us here. We look forward to spending time with new and old friends at Monterey Motorsport Park.
Unbeatable address — Bottom line: to have a facility such as this on the Monterey Peninsula is rare. The location can't be beaten, and neither can the amenities.
"Monterey Motorsport Park is the solution on so many levels for motorsports enthusiasts and car collectors, I honestly don't think a buyer will ever regret investing here. But those who don't take advantage of this opportunity will really have missed the boat."

Gordon McCall
Move-Ins Underway…Selection Is Decreasing — Now Nearly 60% Absorbed
With move-ins ready to start, the remaining units are sure to go fast. Right now, there are still plenty to choose from, but with our recent sales surge taking us to nearly 60% sold out, that's not likely to last long.
To learn more, contact Gordon McCall directly at [email protected] or call (831) 372-9311. Or you can contact our brokers directly: