The excitement is building – the evolution of the garage-condo is nearly complete! Construction has been finalized on three of the four buildings at Monterey Motorsport Park — an extraordinary, 90,000 sq. ft. luxury car community located adjacent to the Monterey airport along Highway 68, not far from WeatherTech Raceway Laguna Seca.
Work has wrapped on 56 of the 86 total units — with Building D's remaining 30 units scheduled to be finished next month. Owners are now customizing their garage-condos to suit their personal tastes and preparing to move in.
The curtain is clearly rising on the newest upscale car community on the Monterey Peninsula — the place to be for collectors and car enthusiasts: Monterey Motorsport Park.
Exceptional Amenities and Attention to Detail
The stylish, new-from-the-ground-up complex looks nothing like your typical storage facility or garage. The sleek, modern building exteriors feature stucco with stone treatments, plenty of glass and canopies over entrances to some of the units.
Buyers can choose garage-condos ranging from less than 700 sq. ft. to nearly 2,100 sq. ft. One-of-a-kind design features and amenities include:
Ceilings soaring up to 25 feet, with large roll-up doors for easily moving vehicles in and out — and a standard walk-in door for you and your guests
A mezzanine 13 feet above the garage floor, accessible via an interior staircase. Most owners are customizing this space into an office or personal retreat — with a large-screen TV, sofa, wet bar, and more to enjoy their favorite races or sporting events with family and friends
Blazingly fast fiber-optic-based Internet service and cable TV options available for web, TV and VoIP phones
A completely fenced property with access-controlled entry gates, abundant lighting, video in common areas, and proactive remote guarding service from Elite Interactive Solutions
EV charging stations to charge your electric vehicles on-site
Internal water loop and wastewater lines to tap into if you'd like to install a private restroom or sink in your unit — in addition to common restrooms (with a shower) for the community
On-site car wash station, plus compressed air and water
Accessibility for up to 55-foot semi-trailers, motorhomes up to 30 feet and passengers cars pulling 20-foot boat trailers (selected units)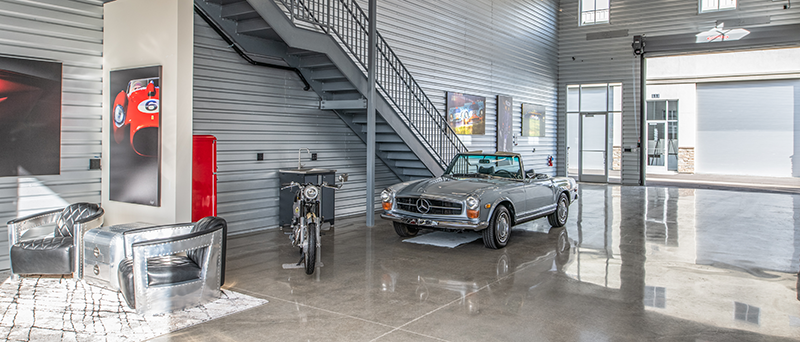 Ideal for Collectors, Motorsports Enthusiasts and Personal Businesses
Monterey Motorsport Park is designed to appeal to avid car collectors, track driving-day enthusiasts, Monterey Car Week attendees, and anyone who enjoys being around car guys and gals — including personal businesses that cater to the car crowd. This includes next-generation auto buying and selling businesses that typically handle transactions via e-commerce.
If you're interested in locating your business at Monterey Motorsport Park, please contact our brokerage team for additional details and full CC&Rs. To arrange a tour of the completed Buildings A, B and C, get in touch with one of the brokers below:
You can also contact development team member, Gordon McCall, [email protected], (831) 372-9311, who will soon be moving his McCall Events business into the facility — or Ralph Borelli, [email protected], (408) 521-7117.