Maxi-Benefits Compared to Mini-Storage
Monterey Peninsula residents love their cars — and cars love the Monterey Peninsula. Its windswept vistas. Steel-blue stretches of ocean. The magnificent, soaring heights of Big Sur and miles of winding back roads. Our local love affair with the automobile is further reinforced by Monterey Car Week, which will draw auto enthusiasts from around the world to the Monterey Peninsula when it returns in 2021.
But here's the irony. For an area that reveres the car as much as we do, there aren't enough places to safely and securely store these treasured vehicles. Many of the quaint cottages and homes in upscale communities such as Carmel have no garages. And many of the newer condos being built lately have minimal or no provisions for garages.
If you've ever considered mini-storage, you know that isn't really an answer. Fortunately, with Monterey Motorsport Park now open, you have the perfect solution within this one-of-a-kind garage-condo community.
24-Hour Gated Entry, Proactive Remote Guarding, Easy Drive-In or Walk-In Access, Wall and Roof Insulation, and Unique Mezzanines
How does Monterey Motorsport Park compare with the typical mini-storage facility? The truth is — there's no comparison!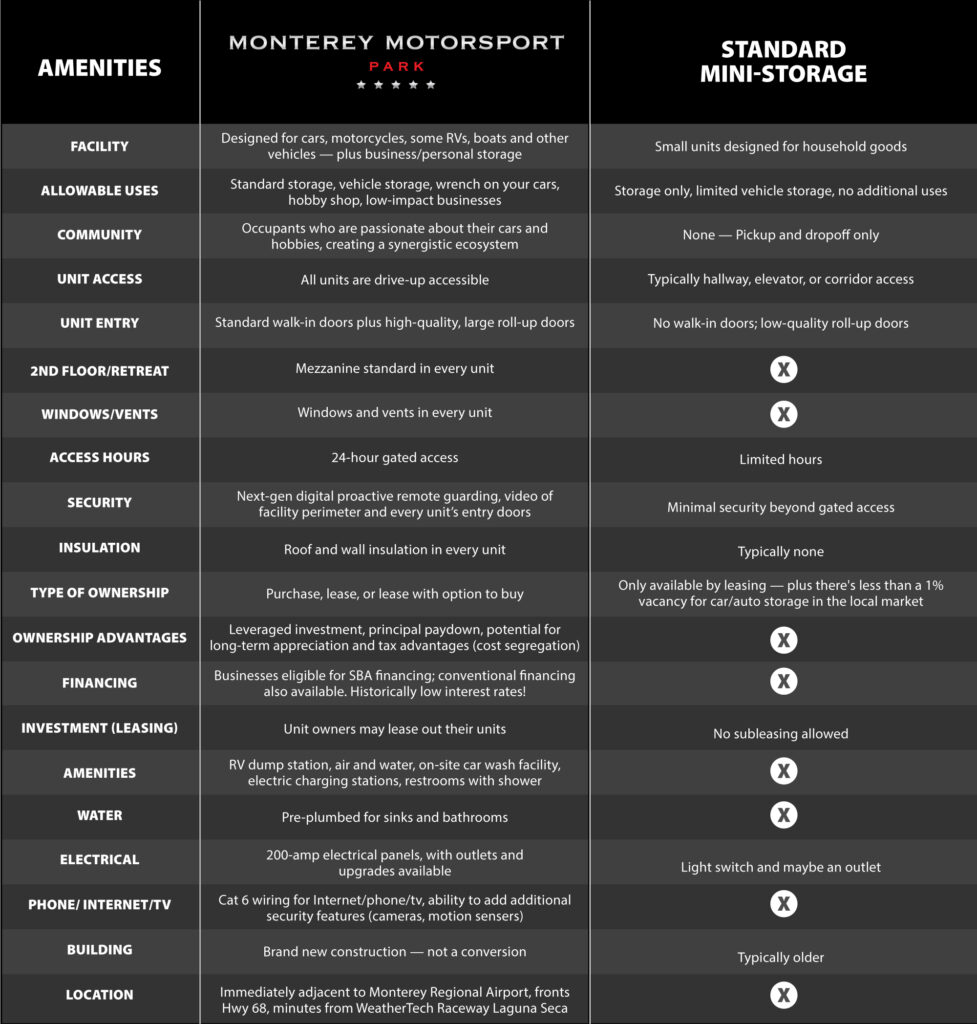 Monterey Motorsport Park offers a total of 86 newly built, luxury garage-condos on a scale that dwarfs a mini-storage facility's meager offerings. Soaring ceilings of up to 25 feet with inviting mezzanines that can be customized into comfy retreats or offices. Roll-up doors that range from 12' x 12' to 14' x 14' — plus a standard walk-in door in each unit. All in a fully fenced complex with access-controlled entrance gates, abundant lighting and proactive remote guarding by Elite Interactive Solutions.
Best Time to Buy
While you may have assumed exactly the opposite in our COVID-19 shelter-in-place world, there's actually never been a better time to buy.
Interest rates are at unheard-of, historic lows. SBA financing is available for low-impact businesses interested in locating in a unique community of auto enthusiasts. Conventional financing is also available. And while sales closings remain steady even during these stay-at-home times — and approximately two-thirds of the units are already reserved — that still leaves an ample selection to choose from. But not for long!
Take advantage of the many virtual tools on our website — videos, photos and 3D virtual tours — to start exploring the Monterey Motorsport Park facility. Then, set up an in-person guided tour — with appropriate social distancing — led by a member of our brokerage team to see this stunning complex first-hand. Do it now — before the opportunity slips away for good.
Contact one of our brokers to learn more:
Josh Jones, Mahoney & Associates,

[email protected]

, (831) 233-2196
Ryan Clark, Cushman & Wakefield,

[email protected]

, (831) 755-1635
Dennis Chambers,

[email protected]

, (408) 605-6760
You can also get in touch with Gordon McCall, who's part of the development team and will be relocating his business — McCall Events — to the community upon build-out, at

[email protected]

or call (831) 372-9311.
Or you can contact Ralph Borelli at

[email protected]

or call (408) 521-7117.