Final Two Suites at Monterey Motorsport Available Due to Tenant Moving On

After months with every unit spoken for, two prime suites have suddenly opened up at Monterey Motorsport Park. View brochure for floor plan.

Because a small business that was leasing the garage condos with an option to buy has unexpectedly outgrown them, this is likely your last chance to get into the Monterey Peninsula's premier collector and motorsports enthusiast community right from the start.

The Race Is On!
One of the garage condos is an expansive suite in prestigious Building A. Unit 9-A offers 2,094 sq. ft. of space for sale at $939,000.

The other suite is perfect if you only need about half that much room. The 980 sq. ft. Unit 9-B is priced at a highly affordable $439,000, and it includes a convenient, ADA-approved lift up to the mezzanine above the garage floor.

Special Call-for-Offers Sales Opportunity
We'll be accepting offers on your preferred suite — or both units — on Tuesday, February 16th. That's right after the three-day Presidents' Day holiday weekend, so mark your calendars now. Get ready to make your best offer on 2/16/2021 to snap up one of these rare units!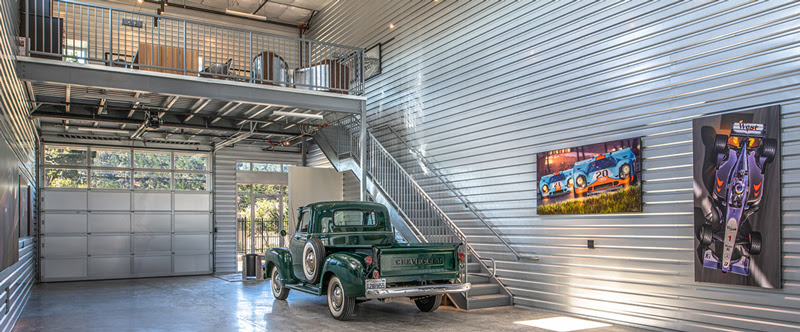 Luxury Features and Amenities
Just in case you aren't familiar with Monterey Motorsport Park, this is one of the leading garage-condo car communities in the nation. Both units offer top-of-the-line features and amenities:
An eye-catching modern design, set against a beautiful oak-studded hillside
Ceilings that soar to 25 feet, with large roll-up doors to easily move vehicles in and out — and a walk-in door for you and your guests
Spacious mezzanines 13 feet above the garage floor that you can customize into a personal office or plush leisure retreat with TV, cozy sitting area, wet bar and more
High-speed business Internet and cable options for web, TV and phone
Secure, fully fenced community with access-controlled gates and an innovative proactive, video-based remote guarding solution
Going, Going Gone
It's absolutely remarkable that these two units have come onto the market, months after the community sold out in a flurry last fall. If you missed out at that time, don't get left at the starting line on these final opportunities. You're unlikely to have another chance.

Contact any member of our brokerage team:
You can also reach out to development team members: